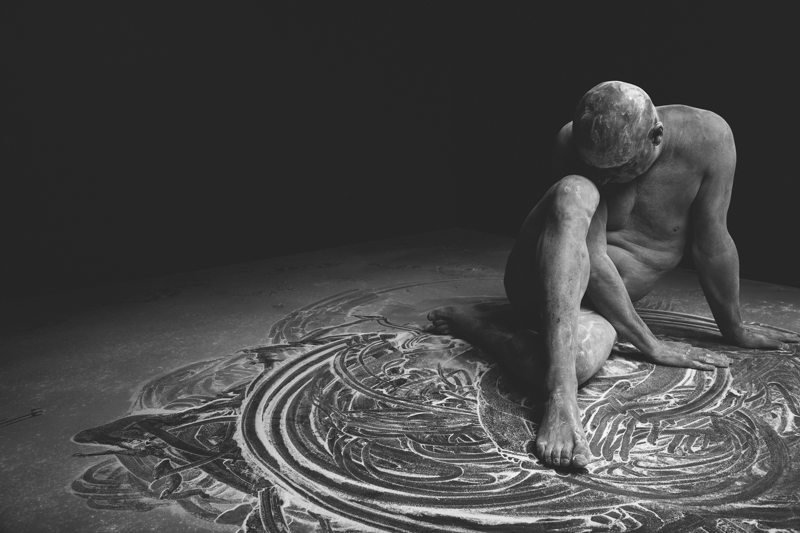 … I wanted to model for you. When I was modeling for you, you were the only person in the room. I didn't care about impressing you with my nude body; I wanted to impress you with my inner feelings of pain … I was reaching out and asking for help. How do I truly come out when my past is still in? …
This was what Michael Ward told me shortly after my last blog post. I was quite overwhelmed and honoured at the same time. And true enough, this post was well responded and pretty much is one of my greatest hits. Looking back on how I interpret everything, I think I did well in how I showcased Michael.
However, I have a confession to make.
Due to some timing issue, the previous post about Michael was written solely based on my personal experience working with him; it doesn't do him any justice about his biography, his life experiences and his believes. Michael actually wrote me a letter, which arrived few hours later. It was a long letter, so it probably wouldn't be appropriate to extend the length of the last post. We decided to do an addendum here.
With Michael's permission, below is his letter to me:
Boon,
Telling my story so to speak isn't easy. There has been much joy in my life but there has been an equal amount of sadness.
A bit of background: My father was British to the core – Union Jack, Kippers on Sunday morning, blood sausage, whereas my Mother was Scottish/French Canadian – Acadian. My father married into money – my Mother's family were quite wealthy. Both my parents were nudists/naturists. In fact my entire family were nudists, Parents, Grandparents, Uncles, Aunts, Cousins, etc. I grew up hugging my naked grandparents. My Father had a zero tolerance for clothes being worn in the house. I would come home from school with friends – I had to strip naked whereas they kept their clothes on. My friends saw all of me.
3rd generation art model or life model (they are one in the same) means that both my Grandmother and Mother were models. My grandmother was modeling in 1925 at the Ontario College of Art; my Mother was modeling at the Toronto School of Art (oldest art school in Canada). My Mother was also one of the art instructors at Toronto School of Art. My first modeling session was at that school and it was for my Mother's drawing class. I was 15. So when you look at my age and subtract the 15 – I have been modeling for about 40 years; but there were breaks in there for school and travel so I estimate about 35 years.
I wanted to be like my Mother and so when I graduated from High school I applied and went to Ontario College of Art – I graduated with a BFA in visual arts and yes while going there I modeled. My Mother and Father were outraged with my degree hoping I would have done something better; so I then travelled to Vancouver and went to BCIT – British Columbia Institute of Technology and took survey engineering. While in Vancouver I modeled almost every night at art drop-ins and for art classes in the evening at Emily Carr University. When I graduated – I went to work for the Government of Canada as a Federal Surveyor. My area of responsibility was Indian Reserves, International Boundaries and the Canadian Arctic. I articled and became a Canada Land Surveyor a member of the ACLS, which is based in Alberta. All the time I spent surveying I continued to model – I would work all day and then volunteer to model nude for local art groups in the areas I was stationed. I was quite comfortable working alongside guys during the daytime and then to stand nude in front of them when they drew me at the local art group meeting. Getting a male nude model was extremely rare and most groups never turned me down.
Support to pursue what is in my soul – to model – has been supported by my family since day one. They know what is in my blood. Relationships – now that was a different issue. I could be a surveyor, an artist and a nude model but I could not be gay. Being gay in those camps would have meant an early death. So I kept quiet and for almost 30 years said nothing about my sexual orientation. I had boyfriends and lovers on the side but it was kept very discrete. That was the hardest thing I did to myself – to deny what I was.
That was then and this is now – being an art model – means unlike photography models; I have paid modeling gigs on a regular basis. During the school year, I model on the average 3 out of 5 workdays at all the local art colleges, both here on Vancouver Island and in Vancouver. I model for private artists, art groups and for drop-in groups. And I model for Photographers as well. Having a career of 40 years means I have come in contact with quite a few very famous artists; some passed away. All have given me excellent recommendations. These recommendations open doors for me that are otherwise closed to others. I am a classical model – my style and poise come from years of ballet and jazz dancing, Tai Chi and Yoga. I always try to incorporate Zen teachings into my modeling.
The challenges of being a life model are getting old. Old models hurt holding poses that they could hold 30 years ago with ease. So I have stopped trying to be me as I was when I started and am now being the new old me. I treat every session as if it was my first. I am nervous before dropping my robe and am always polite and humble to the audience. I still think it is an honour to model for artists and photographers – imagine they chose me. I never rehearse in front of a mirror my poses; I never memorize a routine. I come into every session refreshed and feeling good inside. I close my eyes and for moment I can hear my Mother and Grandmother's instructions on how to model. They taught me that there is an exchange of energy that passes between the artist and the model. I am the same as the paper, the charcoal, the paint, the brushes, the film, the lens and the camera.
Everything on this earth was created from us – so to draw, paint, sculpt and/or photograph the human figure is one of the greatest challenges for man. I have spent my life giving of my nude body so that others can learn about anatomy, love, sex and life.
Michael
The above letter wasn't the whole story. If you are a friend of Michael, you will probably know Michael has left out something that he has been battling for a long time. It was unintentional.